Articles
2023-04-17 10:00:00
Most Japanese people cut it into 2 to 3 cm pieces and eat it with unsweetened Japanese tea or matcha.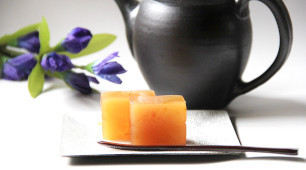 It is also recommended to cut this bitter orange yokan into thin slices and bake them on toast or eat them on crackers.
The ingredients of tai tai yokan are sugar, white beans, orange, syrup, and agar agar. No eggs, oil or gelatin are used.
It is a gluten-free candy. Shelf life before opening is 4 months at room temperature.
After opening, it can be sealed and stored in the refrigerator for up to one week.