Articles
2022-07-18 10:26:00
Jin-Gori Shaved Ice
Our original shaved ice!
It is served with Kibimochi (clear sweet rice cake), brown sugar syrup and roasted soybean flour on the top
Shizuoka Kintoki Shaved Ice
Matcha-flavored shaved ice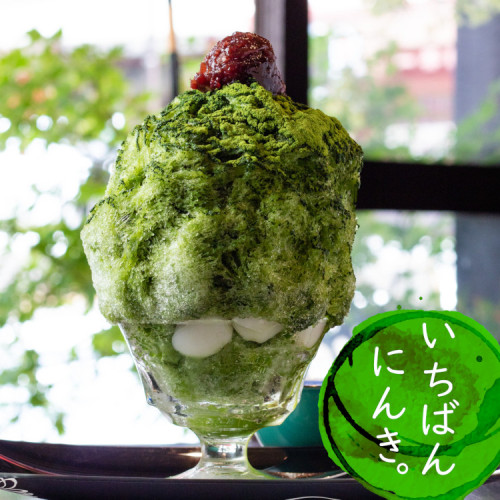 It is less sweet and served with matcha green tea syrup and matcha green tea powder from Shizuoka on the top. Shiratama rice-flour dumplings are also garnished and red bean paste is topped on them. Please be careful not drop the red bean paste. It can easily fall off.
★Hot roasted green tea and salty sakura shrimp rice crackers are served with the shaved ice.
A Japanese style cafe run by Tokiwagi Yokanten, a Japanese confectionery in Atami. You can have coffee, tea, and matcha with Yokan, Japanese traditional sweet beans jelly, and Japanese sweets made from rice cake sold at the store. (We do not serve meals)
★We have a minimum one drink per person policy here.
There has been no outbreak of the novel coronavirus at cafes and souvenir shops in Atami City.
We are taking measures against the new coronavirus at Tokiwagi Yokan's cafe.
1. The number of visitors is limited to 50% of the usual number.
2. Hand sanitizer is available at the entrance.
3. We maintain distancing between seats and set up partitions.
4. There are three ventilation spots at all times.
5. Air purifiers are installed.
6. Carbon dioxide levels are measured.
7. Tables and chairs are disinfected every time.